Diesel subsidy for 2013-14 could be capped at Rs 6/litre
Banking on the phased deregulation of diesel pricing, the government proposes to cap subsidy on this fuel at R6 per litre in 2013-14 to insulate itself from volatility in global crude oil prices which could potentially upset its fiscal math. The average under-recovery on diesel this fiscal is estimated to be R10/a litre and this is made good by subsidy, the burden of which is borne by the government and upstream oil companies in a 3:2 ratio.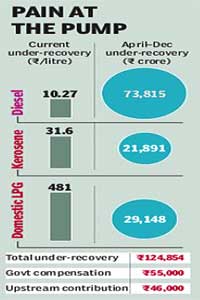 The move to cap diesel subsidy could help government to lower the overall subsidy burden on the fuel, including the share of upstream oil companies, by almost 40%, if crude prices and the rupee remain at current year's levels. Supposing the subsidy sharing formula is not altered, this means the government's share of the subsidy (about R60,000 crore in 2012-13) will come down by around R24,000 crore.
The cap would force a revision of subsidy calculation by adopting the export-parity formula against the current trade-parity system, besides successful implementation of the plan started in January to hike diesel prices every month by 45-50 paise a litre.
If the plan materlialises, it would indeed be a spectacular feat for the policymakers given that diesel, the single biggest head on the government's subsidy spending, accounts for 65% of the current fiscal's fuel subsidy bill of close to R1.55 lakh crore.
"A Rs 6 per litre cap on diesel subsidy is considered prudent as it would help oil marketing companies revise the product price hike schedule