Production cuts on cards as auto inventory swells
The auto industry is not only slated to post its slowest growth in five years this fiscal but is also fighting one of the highest inventory levels in recent times across segments like commercial vehicles, two-wheelers and cars, which may lead to more production cuts ahead.
The commercial vehicles industry, where Tata Motors and Ashok Leyland account for about 80% of volumes, faces the biggest challenge with inventories more than doubling in the last one and a half years, say analysts and dealers. Carmakers are close behind with similar stock levels as petrol car sales are yet to pick up and even sales of diesel cars are slowing due to rising fuel prices. For two-wheeler makers, the fiscal has been volatile and inventories are already up to the brim, paving the way for discounting, a rare move in the segment.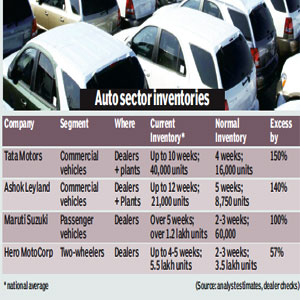 In fact, Tata Motors, the market leader in the commercial vehicles segment, has been adjusting the production of its medium and heavy commercial vehicles (M&HCV) to align it with demand by resorting to production cuts at its plants in Jamshedpur and Pune.
In an analyst conference call following the October-December earnings earlier this month, Tata Motors said that "decline in market share in M&HCVs was partly due to lower dispatches of vehicles in the market due to inventory adjustments". The company's managing director Karl Slym said, "Overall M&HCV has been down by 38% during the quarter, showing how the economy is performing."
"Even if incentives towards M&HCV