Rail Budget 2013-14 Live: Railways to double spend on track electrification
Rail Budget 2013-14 Live: Rail minister Pawan Bansal could announce his thrust on electrification as part of his debut Rail Budget 2013 speech on Tuesday, sources said.
Hit hard by the Centreís decision to deregulate bulk diesel prices that has set its annual fuel bill soaring by 15%, the Indian Railways has turned its attention on the neglected track electrification programme, increasing the target by around 50% for the next fiscal.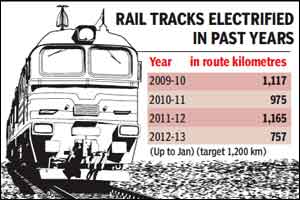 The national transporter would be doubling its spend on electrification to R2,000 crore next year.
This would be the railwaysí biggest electrification drive as the target is expected to be around 1,800 route kilometre.
For 2012-13, the electrification target was 1,200 route kilometre, of which only 757 km has been achieved till January.
A major portion of the increased spending for the electrification projects is expected to be done through the Indian Railway Finance Corporation (IRFC), which till date has stayed away from financing railway projects, due to cost and time overruns.
Bansal is expected to announce three projects to electrify the routes connecting Delhi with Ahmedabad and Jaipur. The three projects covering 1087-km of rail track will cost R1,121 crore.
To get the funds for the electrification projects, the cash-strapped railways, which is planning to raise Rs.18,000 crore of its annual plan outlay for the next financial year through market borrowings, is expected to ask IRFC to finance the project.
ďIRFC could be asked to finance electrification projects of railways. Such projects have