Win a smartphone: 'THE FINANCIAL EXPRESS FE@Campus Contest'
feBureau :
New Delhi, Jan 29 2013, 17:43 IST
"THE FINANCIAL EXPRESS FE@Campus Contest" ("Contest"), organized by The Indian Express Online Media Pvt Limited ("TIEOML").
TIEOML is desirous of promoting talent, knowledge, ability and competitiveness among B School students through an online initiate titled FE@Campus, by means of a contest for a limited duration.The contest will be open for current Students of B Schools.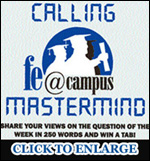 All entries will be posted on our websites www.indianexpress.com and www.financialexpress.com
These will be prominently displayed on the Financial Express facebook page as regular posts throughout the duration of the contest. So contestant has to like our facebaook page to view the entries or log on to www.financialexpress.com amd www.indianexpress.com. THE TOTAL OF LIKES ON BOTH THESE WEBSITES WILL BE COUNTED TO DECIDE THE FINAL WINNER.
Contestants are invited to submit posts and photographs to our mail id fecampus@expressindia.com which will be uploaded on www.financialexpress.com and www.indianexpress.com.
Contestant has to get maximum likes on the post to win the prize. The contest period will be for one week commencing from a Monday till Saturday. A total of 15 such contests will take place.
The contestants must submit an original work. A Contestant may submit more than one entry. The entry with the maximum number of likes as on Sunday shall be declared a winner and be entitled to the first prize. The runner-up shall be entitled to the second prize.
The eligibilty criteria are
1. The contestant should be a current Student of a B School. He/ She must submit a scanned true